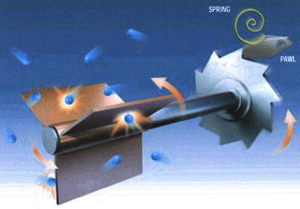 R. D. Astumian and P. Hänggi,
Brownian Motors
Physics Today
55
, no. 11: 33-39 (2002)
P. Hänggi, F. Marchesoni and F. Nori
Brownian motors
Ann. Phys. 14: 51-70 (2005)
Annalen_presse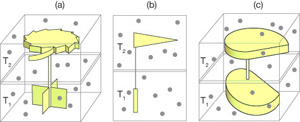 P. Hänggi and F. Marchesoni
Artificial Brownian motors: Controlling transport on the nanoscale
Rev. Mod. Phys.
81
, 387-442 (2009)
See also interview:
http://sciencewatch.com...
(PDF)
P. Hänggi
The ring of Brownian motion: the good, the bad, and the simply silly
4th Mexican Meeting on Mathematical and Experimental Physics, Mexico City, July 18-24, 2010.
Peter Hänggi
Brownian motion reigning manipulation and transport on the nanoscale: Stochastic Resonance and Brownian motors
Peter Hänggi
Smoluchowski's Oeuvre: Its impact for Physics and Chemistry
4-th Conference on Statistical Physics: Modern Trends and Applications, July 3-6, 2012, Lviv, Ukraine

Michael Schirber
Physics Focus: Particles sorted by entropy
Features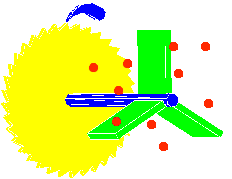 Perpetuum mobile der zweiten Art.pdf
FAZ vom 5.4.1995, Seite 3


P. Hänggi and P. Reimann,
Quantum ratchets reroute electrons.pdf
Physics World 12 /3 : 21 (1999)
Link
full text .ps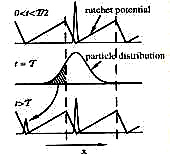 Christian Speicher
Die Kanalisierung des Zufalls.pdf
Neue Züricher Zeitung, 09.05.2001
Mini reviews
P. Reimann and P. Hänggi,
Introduction to the Physics of Brownian Motors.pdf
in Special Issue: RATCHETS AND BROWNIAN MOTORS: BASICS, EXPERIMENTS AND APPLICATIONS
In: Applied Physics A 75: 169-178 (2002)
full text .ps
link.springer.de/.....

Prof. Dr. R. D. Astumian,
Making molecules into motors.pdf
Scientific American, July 2001, 56-64
see also:
Spektrum der Wissenschaft, Januar 1/2002, 36-43
Drift Ratchet:


Ch. Kettner, P. Reimann, P. Hänggi, and F. Müller
Drift ratchet.pdf
Phys. Rev. E,
61
, 312-323 (2000)

Escaping particles in a periodic potential show giant transient directed transport
Highlight in Europhysics News 39 (No. 4), p. 21 (2008)